PRINCIPAL'S MESSAGE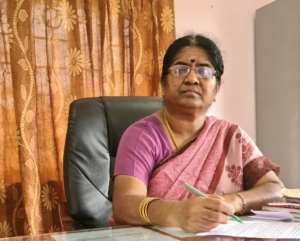 The Government Law College, Theni was inaugurated on the auspicious day of August 29, 2019 by the Hon'ble Deputy Chief Minister Thiru. O.Panneerselvam in the august presence of the Hon'ble Minister of Law, Thiru C.Ve.Shanmugam, Secretary to the Government, Law Department Thiru C.Gopi Ravikumar, Theni District Collector Ms. M.Pallavi Baldev I.A.S, our beloved Director of Legal Studies Prof. Dr.N.S.Santhosh Kumar M.A., M.Com., LL.M., Ph.D, and other local well-wishers in large numbers.
The Law College offers 5-Year Integrated B.A., LL.B course with 80 students in each year of the course and 3-Year LL.B Course with another 80 students in each year of the course. The College is affiliated to Tamil Nadu Dr.Ambedkar Law University, Chennai and approved by the Bar Council of India.
Theni, the aesthetic location of the Law College in a sprawling complex, so sweet as honey (as the name suggests), has salubrious climate with conducive environment to excel in all fields. District Court and other Sub-ordinate Courts are functioning at Theni. Bench of Hon'ble Madras High Court has been functioning at Madurai which is easily accessible from Theni. These factors are favourable to the students (who are going to be budding lawyers) to get acquainted with practical knowledge and advocacy.
Our beloved Director of Legal Studies Prof. Dr.N.S.Santhosh Kumar, a doyen of Legal Education, was instrumental and took strenuous efforts in establishing Law College at Theni with the noble intent to make legal education available nearer home so that even the less fortunate section of the people in the Region might benefit from this professional course of study. Our DLS remains a guiding light for us in the growth of legal education in the State.
Our Law College is equipped with a team of dedicated, well qualified and experienced faculty and administrative staff ever ready to guide the students in academic and co-curricular activities aiming at tremendous success in world-class legal education. Our College is bound to set new standards of excellence in legal education. Co-curricular activities such as Clinical Legal Education, Moot Court, Elocution, Mock Parliament, Mock Trial, Free Legal Aid, Debates, Sports and other cultural activities are also encouraged in our College. Community services such as Tree-Planting, Mass Legal Literacy Awareness Programmes imparting basic legal knowledge to the common people are also undertaken by our College. National Service Scheme (NSS) and Youth Red Cross (YRC) units are established at our college. Our College is also establishing a well equipped Library.
The students admitted to our Law College are bound to shine as Legal Luminaries and dedicated Judicial Officers contributing to the growth of the legal system in our country.
With the continuous encouragement and guidance by our beloved Director of Legal Studies, Prof. Dr.N.S.Santhosh Kumar, the college team of faculty and staff could make an indelible imprint in imparting global standard legal education in our college.
Our profound thanks are due to the Government of Tamil Nadu, especially the Hon'ble Chief Minister, Hon'ble Deputy Chief Minister, Hon'ble Minister of Law, Secretary to the Government Law Department, and Director of Legal Studies, for their assistance and support in establishing this Government Law College at Theni.
"EFFORTS NEVER FAIL" is our Motto. We shall continue our untiring efforts to make this Law College as a premier legal institution in the country with the blessings and support of all the well-wishers.